Today is an exciting day coupled with sadness. Today is a day filled with nervous energy but also nervous fear. Today is a day that marks the end of one chapter and the beginning of another. Today is my first day of a new job, Coordinator of STEM K-12 for the Rockwood School District. My thoughts today are really all over the place. I have had several weeks to contemplate this, analyze it, begin working to succeed at it, and to think back on what I had been and what I was now becoming.
For 8 years, I was an Instructional Technology Specialist and this job defined me. During that time, I presented at conferences, helped way more teachers than I ever thought possible, worked with awesomely enthusiastic students, and really felt like I made a difference. In the last two years, I was blessed with many opportunities...none bigger than attending the Google Teacher Academy. This opened up even more opportunities and I feel it was one of the reasons I was accepted to present at ISTE 2015. Presenting at ISTE was a bucket list moment for my career...the third try was the charm. My presentation could not have been better! I had a full room, an engaged audience who participated fully, and at several points of the day, I received compliments from participants as I walked around at the conference. It was a success and I was on top of the world.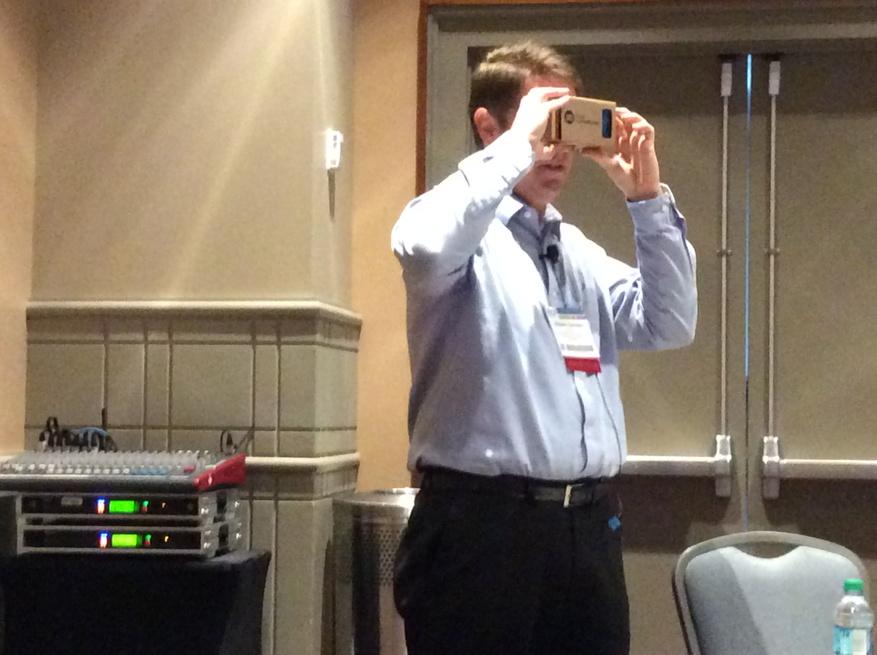 Demo of Google Cardboard at my ISTE presentation
My success at this job defined me. Over the years I received numerous awards, received positive feedback from teachers, administrators...even a group of 6th graders defined me as "cool"...the ultimate compliment from a 6th grader. In the online spaces, I have built a reputation on my work and this is something I am really proud of and hope to continue. Within my local community, I have been sought out by a number of districts and schools to provide PD. My success has defined me. I am not being boastful, I don't think I am the end all be all of edtech, but I do acknowledge that success has been there.
This success is what makes me sad and nervous. I am leaving this behind. One of my most successful moments as an Instructional Technology Specialist is most likely my last. Leaving on this note puts doubts in your head about whether I made the right decision, whether I will be able to be as successful, and whether I will be able to redefine myself. That process starts today!
Added a new laptop sticker to reflect my new identity
I have a new identity now...and I think it will be a split identity. My past is something that is not being deleted. It is still part of me but now my identity has shifted. I now need to start building my STEM identity and that is exciting. We have many exciting things planned this year and there will be many challenges ahead. This is going to be a year of change and I anticipate that I will work harder than ever. So why am I doing this? It is all about the possibilities and the impact we can have on students. Just like technology, the world of STEM is constantly evolving with new possibilities and challenges. It is my hope that all I have learned over the past 16 years in education will help me serve the district as their STEM Coordinator.
For now, I can mourn the passing of one job and embrace the excitement of the new one. I have to admit...writing this was selfish and has helped me process everything. Hopefully, you can glean some thoughts that can help you.
I look forward to blogging about the successes of the future.